introduction
My thesis is that Brookfield Asset Management (BAM) will continue to be a good investment for shareholders who have a long-term horizon. 4Q21 shareholder letter shows $1 million invested 30 years ago is worth $111 million today at 17% CAGR, vs. S&P 500 CAGR of 11% and CAGR of 4 % for investments in 10-year US Treasury bonds. I am optimistic that Brookfield will continue to outperform the S&P 500 for longer periods.
Parent company Brookfield owns 48% of Brookfield Renewable Partners (BEP), 27% of Brookfield Infrastructure Partners (BIP) and 64% of Brookfield Business Partners (BBU).
Separating part of the asset management business
Supported by the acquisition of Oaktree, Brookfield's asset management business grew well from 2017 to 2021. Commission-related revenue grew well from $754 million in 2017 to $1,742 million in 2021. This excludes performance fees which were $157 million in 2021, so the actual 2021 total was $1,899 million. This actual total is different from the annualized total of $1,803 million that management uses for the plan value: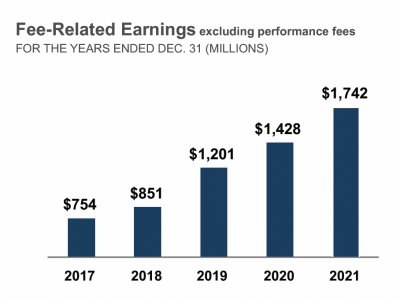 Target carried interest also grew nicely, from $1 billion in 2017 to $4.1 billion in 2021. Per the verbiage below, the $4.1 billion for 2021 is different from the 3.4 billion gross for Brookfield's share and $2.2 billion net for Brookfield's share which is used for the value of the plan: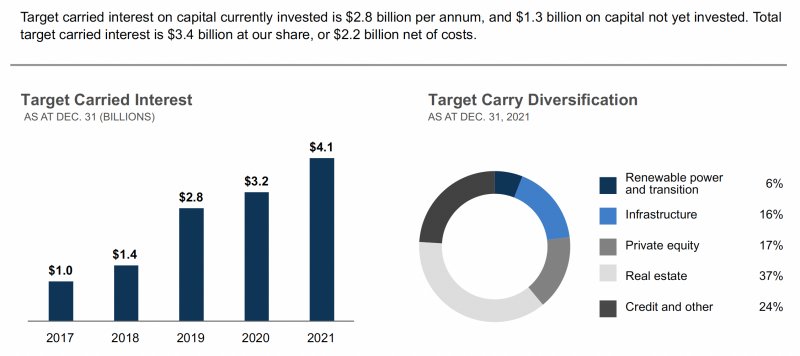 The 4Q21 letter points out that some new investors may be stymied by the nuances of the complexities involved in asset-heavy businesses, while some traditional investors acknowledge that Brookfield's capital has been one of their operational strengths. One way to attract both types of investors is to divide a percentage of the asset management business into a separate security. It was made clear in the 4Q21 call that if this happened it would be a full security and listed company, not a tracking stock. BAM's parent company would still own part of it, but a part like 1/4 or 1/3 would be separated and distributed to shareholders:
Separating some of our manager from the public or private market, while ensuring that it still benefits from the capital we have across Brookfield, could open up growth options for us that don't exist today, because we never like to issue shares less than what we believe to be at least their full fair value. Also, as our reinsurance and investment business grows, separating out a portion of the manager may make sense to allow investors who only want exposure to the manager to hold a separate security.
In the 4Q21 call, CFO Goodman talks about 2 things that have happened over the past few years. The first is that Brookfield's asset management business has become one of the largest in the world. The second is that the markets have evolved so much that "asset light" managers are favoured.
CEO Flatt talks about Brookfield having his cake and eating it too on the 4Q21 call. He notes that if the new asset management stock or existing parent company is trading below fair value, then they can buy shares in cash and increase in value:
If we can have our cake and eat it too, that is, we can have our capital on top, the investors who want to invest in the parent company will stay there, keep their shares in that company, and they will make us invest their capital in addition, they will own part of the manager. But if we enumerate a part of [the] director [business] separately, this would allow investors who choose or wish to own a light asset manager to have the option to do so.
Evaluation
In the past, management has shown the value of the plan, but I don't see it in the 4Q21 supplement. Applying the model that management has used in the past, I get $124.5 billion.
We see 2 of the asset management numbers for plan value on slide 6 of the 4Q21 supplement. We have a commission profit of $1.8 billion and a target carry of $2.2 billion. In the past, management used a 25x multiplier for fee income and a 10x multiplier for target net carry. On the 4Q21 call, Chief Financial Officer Nick Goodman said the fee revenue multiple at the last Investor Day presentation was 25x to 40x. Year-over-year growth in fee-related revenue was 15%, while there was 30% growth for target carry: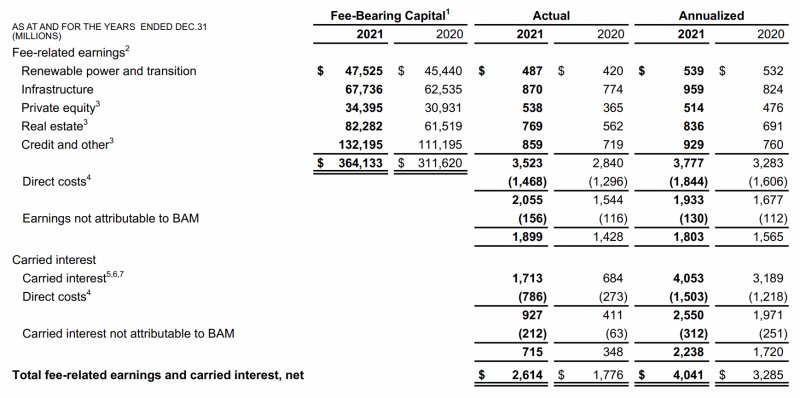 The 3rd component of asset management, net accrued unrealized interest, is $4.7 billion per slide 17 of the 4Q21 supplement: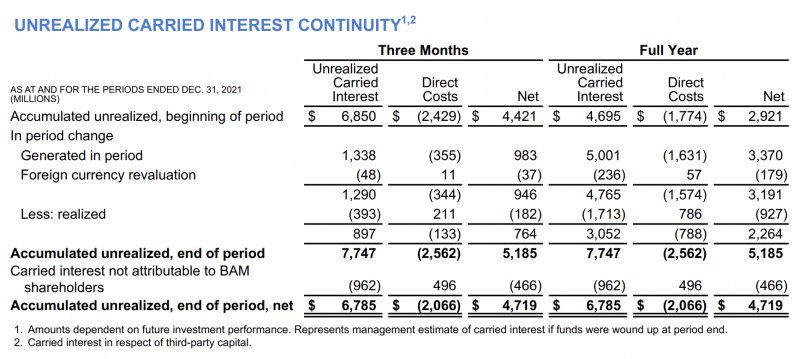 In summary, this gives us the following for the asset management side of the plan's value:
$45.0 billion in fee-related revenue [25*$1.8 billion]
$22.0 billion carry target [10*$2.2 billion]
$4.7 billion in accumulated unrealized deferred interest, net
——————
$71.7 billion
The value of the invested capital plan is $52.8 billion per slide 7 of the 4Q21 supplement: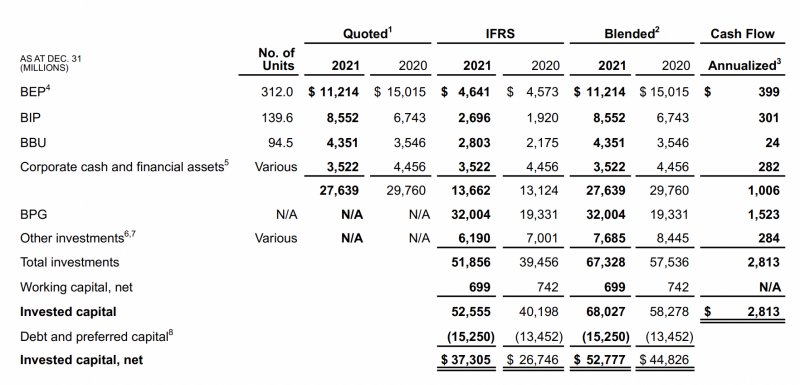 Adding asset management of $71.7 billion and invested capital of $52.8 billion, we get a total plan value of $124.5 billion. Given that the 4Q21 supplement shows a total of 1,651.6 million diluted shares at the end of the period, this represents approximately $75 per share, which is well above the February 11 share price of $58.05.
In the 4Q21 letter, it is revealed that Brookfield is worth $120-150 billion or $75-90 per share. I think they hit the high end of $90 per share using a multiple of 40x instead of 25x, which would mean a trade value of $72 billion instead of $45 billion:
Based on comparable multiples of pure and asset-light alternative investment managers, the equity value of our separate asset management business [i.e., "our Manager"] would probably be in the range of $70 billion to $100 billion [circa $45-$60 per share]. To be very clear, this excludes the equity that we have invested in our businesses, which today is about an additional net $50 billion. [circa $30 per share].
Disclaimer: Anything in this article should not be taken as a formal investment recommendation. Never buy a stock without doing your own thorough research.